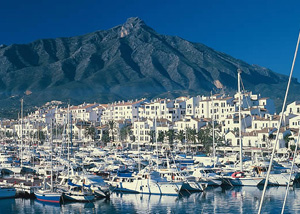 When José Banús gave his name to the now famous port it was unlikely he envisaged it becoming one of the most famous marinas in Europe. Puerto Banús is synonymous with wealth, fashion, glamorous parties and the 'highlife & nightlife'. It's reputation is high-class and high-price-tag. The "place to be" and "to be seen", this is where the elite classes and would-be famous are to be found.

The area is lined with designer boutiques and restaurants, including well-known venues such as Trader Vic's and Salduba while other well venues such as the Marbella Club Hotel and Oliviá Valère's nightclub are just down the road. The marina is home to large expensive yachts and smaller pleasure craft alike, Shaf - King Fahd's boat is moored near the old tower and is a well known point of reference.

The marina is home to a plethora of restaurants and cafés, catering for all tastes from fine dining to burgers and fries. The marina's increased popularity has led to international chains such as TGI Friday's opening up, making it within the reach of most people to eat in Puerto Banús. In terms of leisure activities Puerto Banus is home to an Aquarium and a multi screen cinema showing films in English.

Apart from drinking a coffee while watching the coming and going of Ferrari's and Bentley's, the most popular pastime in Puerto Banús is probably shopping. It is definately the "in" place to shop for designer labels with stores from Gianni Versace, Hermes, Ralph Lauren and DKNY. Many of the boutiques also stock several designers under one roof such as Mic Mac - Armani, Cerruti, Kenzo; Royal House - Valentino, Christian Dior, Pierre Cardin; and Exseption - Prada, Gucci, Dolce & Gabanna.

If your budget doesn't stretch to haute couture there are plenty of other interesting shops including Neck & Neck and Jacardi (great kids clothes). The large 4 floor El Corte Ingles department store sells just about everything - a variety of designer names, it's own clothing lines, sports gear, shoes, home decor - you name it. While the new Marina Banus shopping centre is home to high street names such as Zara and Mango (both Spanish companies), which make a good bargain for tourists with their ranges being decidely cheaper than in most other European countries.