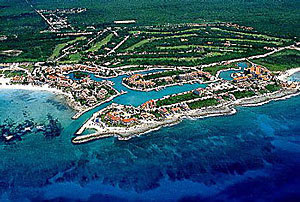 The large hotels dotted along the coast are firmly mass-market and cater for all visitors, but mainly American and Canadian couples with Europeans coming in a close third.

Accommodation consists of one family-orientated tourist hotel and one small upmarket hotel in the marina development, along with a couple of B&Bs; some apartments are available as holiday lets. Along the coast the hotels are large international-standard establishments with limited nearby amenities.The Belle Mar Spa & Gym, located in the hotel complex, is surrounded by sand, water and sun. The Omni is one of the few 'non' all inclusive hotels outside of Playa del Carmen. This charming 30 room resort welcomes the public to use their restaurants, bars, pools and access the beach through their lobby. Help keep this access open by having a drink or snack while enjoying the fabulous beach.

The marina has two good-sized beaches of fine white sand, with one being extended and retained by sea defences. Just to the N is a section of rocky shoreline where some hotels have quarried artificial lagoons and created beaches. To the S and further N are long fine white sandy beaches, but entry to the clear blue waters is sometimes restricted and rocky owing to the proximity of local reefs. The gin clear, turquoise blue water in front of the Omni beach is shallow and well protected by the outer reef. It is a great place to swim, snorkel or build a sandcastle. A beach side palapa bar is ready to serve up a cold refreshment or snack right to your lounge chair.

Within Puerto Aventuras, activities centre around the picturesque commercial centre on the marina. Here you will find numerous boutiques, around 10-15 restaurants, around 5 bars, a money exchange, 2 pharmacies, a post office, 2 internet cafes, 3 convenience stores, bank machine, travel agency, 2 tour operators, car rental agency, 2 dive shops, bicycle tours, maritime museum, gym, spa, fishing charters, catamaran day trips, and the Dolphin Discovery where you can swim with dolphins.

The nightlife here is the marina and is very low-key, with a couple of restaurant-bars offering live music into the early hours a few nights a week. A disco, mainly during peak season. Larger hotels often organise their own entertainment programmes.