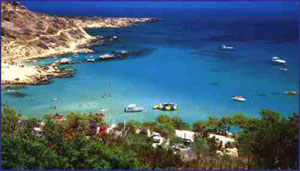 This resort suits mainly middlemarket families and couples wanting a reasonable choice of entertainment and shopping but not the boisterous nightlife or youth-market appeal of Ayia Napa.

There are fine beaches of white sand and crystal-clear water with shingle and flat rocks at the water's edge in some places. Shelves gently so it is good for children. There are some rocky coves. During high season, there are plenty of sunbeds and parasols for hire; during winter months, beaches can look a bit unkempt.

There are plenty of shops, but of limited variety. More typical local shops and supermarkets at Paralimni. For serious shopping, Ayia Napa is a better bet.

During the daytime activities include water sports at all of the beaches including windsurfing, water-skiing, parasailing, diving, snorkelling, jet-skiing and pedalloes. Other activities include cycling, the water park (larger option in Ayia Napa), an a Flower festival in May.

The nightlife offers a choice of bars (including live music and karaoke), tavernas with live music (often bouzouki) and a few discos. There is also a light and water show. There is a wider range in Ayia Napa for those who want to party through the night.

There is a large selection of tavernas and restaurants for all tastes, offering fast food (including a prominent McDonald's and fish and chip options), plus local and international cuisines.

Excursions include two and three day crusises to Egypt and/or Israel (The Holyland).