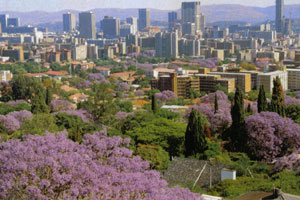 Pretoria offers all the attractions of a main city. Burgers Park is Pretoria's first park, established in 1882. The Fountains Nature Reserve was proclaimed in 1895, claimed to be the first in Africa. Around Church Square are several buildings built in the late 1800s style.

Raadsaal (Council Hall of the Zuid-Afrikaanche Republiek), Palace of Justice, now home of the Supreme Court, Post Office, old Reserve Bank. Sammy Marks Museum is a Victorian period house of a sumptious lifestyle. Paul Kruger museum is in the house of President Paul Kruger of the Zuid-Afrikaansche Republiek. Melrose House, built in 1886, is an example of Victorian lifestyle.

Pretora Art Museum hosts paintings of South African artists. The Pierneef Museum has an exhibit of the artist Pierneef. Van Wouw House was the home of sculptor Anton van Wouw, and exhibits some of his work. The Museum of Science and Technology has exhibits in which visitors can participate.

Pretoria Zoo (the National Zoological Gardens) is the largest zoo in South Africa and with an aquarium. At the State Theatre, consisting of several theatres, productions range from opera and jazz to ballet, drama and cabaret. In the Wonderboom Nature Reserve, just north of the Pretoria Zoo, is a giant fig tree of about 1'000 years old, and which grows over an area of 0,5Ha.