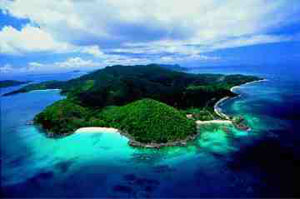 The area is suited to upmarket couples and families, particularly suited to honeymooners and those placing an emphasis on luxury retreat with natural beauty.

There are majestic bays and long beaches alternate with small coves. Most development is focused on 2 main strips of coastline: in the east (Cote d'Or) and in the west (Grand Anse).

The Cote d'Or in particular offers long stretches of golden sand and sheltered, shallow water; good for families. From late May to November the whole of the south west coast is affected by seaweed, while from November to February it is the turn of the north east coast.

Hotels generally provide free transport to the other coast at these times. Snorkelling is best in the more sheltered NW bays and in parts of the Cote d'Or. Anse Lazio, in the NW, is good for swimming and snorkelling and is reputed to be one of the most beautiful beaches in the world, although arguably there are several which could live up to that title.

Anse Lazio is not directly accessible by public transport, entailing a long walk on very steep roads from the nearest bus stop (you could always use a hire car or taxi).

During the daytime most activities are beach and water sports based, however cycling and hiking in the Vallee de Mai are also popular.

The nightlife here offers a handful of local dance halls, also 3 discos in proximity of hotels which are only open at weekends. The Casino at Cote d'Or provide entertainment for the gambler. Evening entertainment is available in some hotels and restaurants; otherwise it's peace and quiet.

There is a limited choice of eateries which means that many visitors stay on a half-board basis. Only a handful of independent restaurants and cafes exist on the island offering local creole specialities and fish dishes. Hotels provide the usual international fare, often with a creole option; their restaurants are generally open to the public. Prices tend to be high.