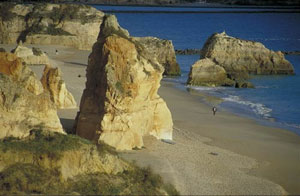 There are golf courses in the vicinity;

Palmares - This is a course of great beauty, perfectly blending beach and mountain scenery.

Penina - The first golf course to be built In the Algarve, Penina is considered the masterpiece of Sir Henry Cotton.

Morgado do Reguengo - This course is the newest course to open in the Algarve. Laid out in a large 980 hectare estate through undulating small .

Alto Golf - Alto Golf runs through two valleys, and was the last to be designed by Sir Henry Cotton.

Portimão is one of the main big game centres in the Algarve, offering the chance to catch fighting swordfish and other big fish. there are also facilities for sailing, hind-surfing, para-sailing water-skiing and scuba diving The golf course set among the pines of Penina is internationally renowned. With courses at Alvor and Vau too, keen golfers arc spoilt for choice.

Mexilhoeira Grande - This is an old village, traditionally sustained by agriculture and by the resources of the Ria de Alvor. The main church is in the Renaissance style (16th century) but has two side doors that are Manueline. The main doorway is extremely solemn, with a triangular pediment. The interior consists of three naves, held up by columns with ornate bases and capitals. The triumphal arch is decorated with motifs from the world of nature and a coat of arms. There is a panel depicting the Assumption on the high altar. The Capela do Santíssimo (Chapel of the Most Holy), boasts a high relief showing the figure of tire Eternal Father and a low relief of St. Peter and St. Paul. There is a collection of statues and objects used in religious ceremonies.