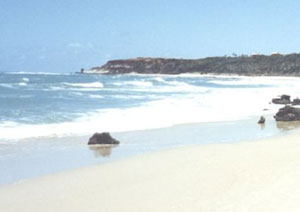 Praia da Falesia Beach is the longest in the Algarve. It stretches as far as the marina in Vilamoura in the east and almost to Albufeira in the west. The beach is very wide, sandy beach backed by red/orange cliffs and accessed by 2 small footbridges.

The beach here is one of the safest along the coast. The lack of development in the immediate area keeps it from getting crowded, even in the summer. There are also a wide range of facilities and the beach is lifeguarded.

The shopping facilities are mainly supermarkets, with 1 or 2 souvenir shops offering the local wares.

During the daytime there very little to do apart from the beach and a few water based activities..

The nightlife here offers only a few bars with limited entertainment. There is a wide range of reasonably priced restaurants with traditional cuisine.