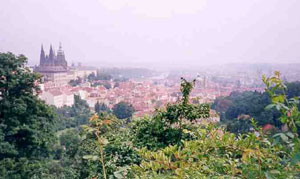 Prague Castle Prince Borivoj founded Slavonic Fortress Prague - predecessor of today Prague Castle, in 9th century. In the 12th century the Prague castle was re-built to stone Romanesque castle, which contained Church of Our Lady, Episcopal building with chapel of Saint Moritz, rotunda of Saint Vitus, Saint George's Basilica with monastery and Royal palace.

Prague is a beautiful, sensuous city. This stunning capital of the Czech Republic has become increasingly popular with tourists, and now easily rates among Europe's most romantic city-break destinations. Its architecture is remarkably diverse and much of it was miraculously undamaged by World War II. Thus, intriguing architectural details and façades can be found on every corner, which makes strolling through Prague's winding, cobbled streets wonderfully intoxicating.

Some of the best views over Prague are from the famous Charles Bridge - the spot visitors generally remember most after a visit to Prague. Built in the 14th Century and lined on both sides with intriguing black statues, it offers splendid views out over the river and up toward the Castle (especially at night when the castle is floodlit), as well as towards the Mala Strana, the Stare Mesto and the Nove Mesto. Serving as one of the city's focal points, the bridge always has plenty to amuse, from street performers to students strumming guitars.

Stare Mesto (the Old Town) is full of drinking establishments, cinemas and galleries. It's a very disorienting area but there are certain landmarks to head for, such as the Old Town Square . The square is home to the 500-year-old Astronomical Clock (the figures of the apostles that pop in and out of it on the stroke of each hour are a popular sight with tourists), the Old Town Hall , partly destroyed by the Nazis in 1945, and the lovely Church of St. Nicholas.