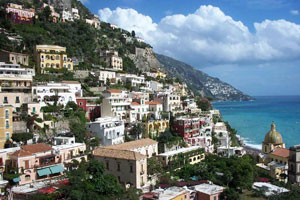 Grotta dello Smeraldo - This is one of the top natural attractions in Positano. There is a lift that takes you down to the grotto and from there, guided boat tours take you through the interior of the grotto, which includes a sub-aquatic nativity scene.

Chiesa S.M. Assunta - Piazza Flavio Gioia. This is one of the top attractions in Positano and is a sight not to be missed. The church dates back to the 10th century and houses many religious artifacts. The church is open to visitors everyday and there is no admission charge.

Watersports - Positano is another of the excellent beach resort towns on the Amalfi coast, and offers a wide range of watersports including windsurfing; snorkeling; and diving. There are also a wide range of beach activities on offer, such as beach volley ball.

During the daytime there is organised water sports and boat trips. You can spend time admiring the views for which this resort is famous. There is the cathedral. Some works of art and holy relics in the 13th-century church of Santa Maria Assunta.

The nightlife has nothing lively. There are cultural activities including the International Chamber Music Festival during the summer.