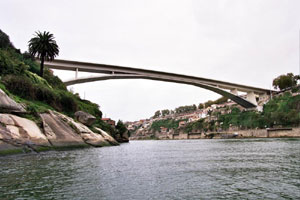 This area is suitable for port-wine enthusiasts, lovers of architecture and history, and business people. It is steep and cobbled in many parts, so could pose problems for those with walking difficulties.

There is a good variety of accommodation here, it is mostly middlemarket hotels, but also plenty of small B&Bs and a few upmarket offerings. Most in central city area.

The seaside suburb of Foz has a small beach , but the water is so polluted that swimming here is not recommended, a similar problem afflicts the beach at Espinho, 11 mls S. Better options include those at Esmoriz , Cortegaca and Vila Cha .

Porto is not exactly a shopper's paradise, despite its size. The main shopping area lies N of Praça da Liberdade, with bookshops, clothes and shoe shops, shoes being one of the city's best buys. There are plenty of opportunities to purchase port.

During the daytime for the culturals among us try strolling around the city's historic quarter, with museums including Museu Nacional Soares dos Reis, Fundacao de Serralves and Museu Romantico. There are several parks, such as Jardim do Palacio de Cristal and Parque da Cidade. There are religious festivals throughout the year.

The nightlife here offers plenty of late-night bars, with stylish establishments in the riverside Cais da Ribeira, Vila Nova da Gaia and the seaside suburb of Foz. Most of the city's many lively discos tend to be on the outskirts, but are generally well served by public transport. There are also pop and rock concerts at the Coliseu do Porto. There is lots to keep culturally minded guests happy, with theatres, such as the Rivoli Teatro Municipal and Teatro Nacional Sao Joao, and classical music venues, such as Auditorio Nacional Carlos Alberto.

Eating out here can be a rather filling, rustic-style, traditional fare, with tripe, meat stews and dishes made from bacalhau. There is a wide range of fresh seafood. Lots of cafes offer an array of tempting cakes and confections.