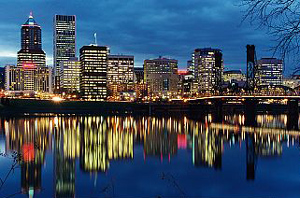 Portland Classical Chinese Garden - The most exquisite, authentic Suzhou-style garden built outside of China is now open in Portland. Come calm yourself in its beauty.

Oregon Museum of Science and Industry - Enjoy an Omnimax Theater, the Murdock Planetarium, view amazing astronomy and laser light shows, and board inside the U.S. Navy's last non-nuclear submarine, the U.S.S. Blueback (SS 581).

Oregon Zoo - The Oregon Zoo has 1,029 animals representing 200 species, nine major exhibits, an elephant museum, an art and photo gallery and a zoo railway.

CM2 - Children's Museum 2nd Generation - Discover this new center for arts and creativity, designed for kids from babies to 13 years old. Filled with hands-on exhibits, you can make a splash in Water Works; experiment with how you look in Mirror, Mirror; create your own fairytales in Once Upon a Time; do dental work on a giant alligator, and discover what's new in the drop-in art studios.

Oaks Park - In Oaks Park theme park, visitors can enjoy a wide variety of fun. Picnics, skating and rides are all part of that fun. There are thrill rides, intermediate rides, and kid's rides.

World Forestry Center - The World Forestry Center presents exhibits on forests of the world, petrified wood, old-growth forests, tropical rainforests; and offers art exhibits and nature walks.

Portland Parks & Recreation - Portland Parks & Recreation offers 100 park and recreation buildings, 12 swimming pools, 180 park grounds, 100 play structures, 200 ball fields, five public gardens, 7700 acres of forests and more.