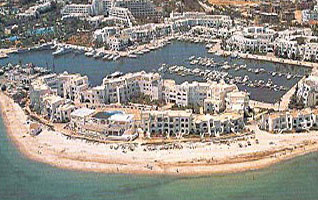 Like the entire resort, the shopping centre and model 'souk' in Port El Kantaoui is geared to tourists, stocking mainly souvenir items with prices higher than elsewhere in Tunisia. Bargaining for goods is an entertaining experience, however, for better bargains and a more realistic Tunisian bazaar experience take an excursion to nearby Sousse.

El Kantaoui bristles with excellent restaurants serving all sorts of cuisine. Most of the best restaurants are fronting the Marina, like sophisticated La Daurade, or Les Emirs, which serve up traditional specialities, and Le Mediterranee. Prices are modest by European standards, but higher than elsewhere in Tunisia.

Nightlife is low key, but most visitors can find something to their taste whether it be simply lingering over a delicious meal, sipping drinks at a waterfront cafe or enjoying the in-house entertainment at one of the hotels. There is also a casino about five minutes away.

From the Marina a variety of boat trips are offered, whether it is pleasure cruises, glass-bottomed boat tours, fishing expeditions or dolphin viewing experiences. The close proximity of the older, more established resort town of Sousse, just six miles (10km) away, means that visitors can enjoy the best of both worlds and travel by the local "Noddy Train" between the two, sampling the beaches and watersports on offer.

The two resorts also share two golf courses. Other pursuits include quad biking, horse riding and beach camel rides, as well as a variety of excursions to choose from like shopping trips to Tunis, expeditions to view the Roman ruins at Carthage, the pretty village of Sidi Bou Said, or an evening in the desert at a Bedouin Feast.