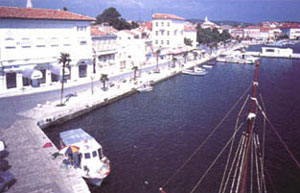 Zelena Laguna - Porec. Tourist resort Zelena Laguna lies along a forested and well-indented coast, with a flat and maintained beach. The resort disposes of around 20 tennis courts, basketball grounds, football fields and miniature golf -courses. The recreational offer includes also jogging trails, a gym, horseback riding and other opportunities. Apart from hotel and apartment ca-pa-ci-ties, accommodation can be found in the campsite. There is also a small marina with 100 berths.

Parentium Marina has 200 berths in the sea and 50 places on the land.

The islet of St. Nicholas - Porec. The islet can be reached by boat which starts regularly from the town promenade. The rocky coast has many maintained beaches, and there are several tennis courts.

Pical - Porec. Pical lies a few-minute walk from the old part of the town, in a rich forest above a beautiful beach. There are 12 tennis courts, one indoor and one outdoor swimming pool, and several congress halls.

The beaches here are fairly poor but numerous. The nearest to town is little more than a large concrete platform jutting into the sea. Most of the tourist complexes have a mixture of rock and pebble beaches, often punctuated by boat jetties. Some are a short but stiff walk from their respective accommodation..

During the daytime the most popular activity is a visit the beach or pool. There are water sports including windsurfing, water-skiing, sailing, diving, canoeing, paddle boats and jet-skis. There are facilities for tennis, volleyball, minigolf, horse riding and bungee jumping. There are several gyms.

The nightlife is the liveliest on Istria's West coast with choice of music bars, cafes and several unsophisticated discos inside the tourist developments; most hotels host live bands and dances on the terraces.