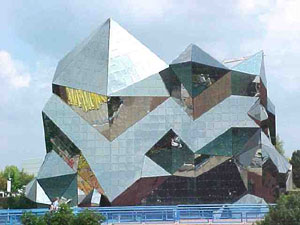 Poitiers has boutiques, a couple of department stores and all the usual outlets found in any large town. An excessive number of souvenir shops can be found within the fenced area of Futuroscope, along with a newsagent. A commercial centre with a supermarket is located next to the park entrance, though a high fence means it cannot be reached easily or safely on foot, and there are no signs.

During the daytime apart from park attractions, activities are limited to exploring historic Poitiers via 3 marked walks. The nightlife here offers 1 disco in Futuroscope, but otherwise just fairly tame hotel bars. The park hosts "water festival" (fine weather only); some local bars and the odd nightclub in Poitiers.

Poitiers has the expected brasseries and French restaurants, along with an unexpected number of Chinese and Mexican eateries. Dining in Futuroscope is uninspiring, offering a range from buffet dining and grill restaurant to a creperie and sandwich bars: queues can get ridiculously long at lunch times so it is worth avoiding this time or, better still, bring a picnic to save time as well as money.

Outside the fence, a pizzeria and a fast-food outlet can be found in the commercial centre. Otherwise the only choice is in the hotels, which, although not particularly atmospheric, often have good-value set menus. Some can get booked up and priority is given to guests something to bear in mind if your hotel does not have a restaurant.