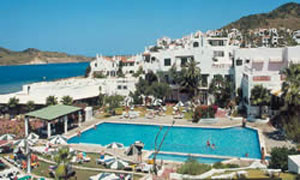 This purpose-built resort in the style of a Spanish fishing village is rather clinical, with an artificial atmosphere.

This area attracts the middlemarket tourists in search of a quiet holiday. Playa de Fornells's steep streets are not suitable for the infirm; but the old village of Fornells is flat, accessible and will appeal to those seeking traditional character.

The accommodation here is predominantly private villas and self-catering apartments. Fornells village has a couple of charming small hotels.

There is a wide curving bay backed by dunes which has fine, gently shelving sands flanked by low cliffs.

Shopping here is the bare essentials, though Fornells village has a handful of souvenir shops and specialist stores.

During the daytime there are harbour trips, sailing and windsurfing which are centred around the old village, there are walks to ancient ruins and donkey safaris.

The nightlife is very, very limited.

There is a limited selection of eateries. Fornells village has several renowned seafood restaurants lining the waterfront.