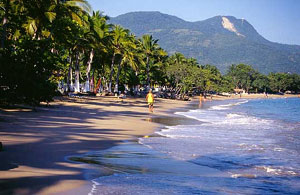 Fun City - Located just out of Playa Dorada. This is one of the top attractions of Playa Dorada, with fun for the whole family. The park offers go-karts; sprint and midgit cars; grand prix cars; bumper cars and much more. This is one of the activities in Playa Dorada that is not to be missed.

Golf - The Playa Dorada Golf Course, designed by Robert Trent Jones, is one of the top attractions of the town. This golf course is a must for any golf enthusiast, they alsoo offer training facilities to help those new to the sport. The golf course offers fun for people of all ages and ability, don't miss out when in town. Playa Dorada Beach - This rocky beach is one of the best on this side of the coast, with warm water and many palm trees providing some shelter from the hot sun. This is a great place to take the whole family for a fun and relaxing day in the sun. There are massage ladies that walk around the beach offering massages at $15 for a half an hour massage.

The nightlife offers a choice of discos and unsophisticated casinos at a handful of larger hotels, with 1 or 2 lively music bars around the Plaza. All properties provide live shows and Tannoyed music until late. Visitors on all-inclusive packages tend to dine in their own hotels which provide generous buffets although most have at least 1 a la carte specialist restaurant. Several cafeterias and relaxed restaurants can be found in the Plaza.