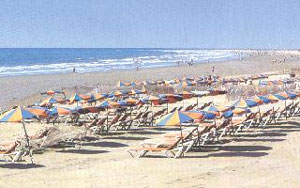 Playa Del Inglés is a good-time resort for those who do not mind crowds but insist on beaches, entertainments and nightlife. Packed with budget-conscious self-catering Germans, Scandinavians and a fair number of British of all ages.

The accommodation here is mainly mid-range apartments and villa complexes of reasonable quality. Virtually all with pools. There are fewer hotels, but there are some of good quality, as well as in San Agustin.

Playa del Ingles is a gently sloping, sometimes windswept, fine sandy beach that runs virtually unbroken westwards towards Maspalomas and is backed by a magnificent expanse of Sahara-like dunes extending over a mile inland (popular with large numbers of nudist and gay holidaymakers). The strip closest to the water's edge is often packed with ranks of loungers and parasols throughout the year. There are various water sports are on offer.

There are several commercial centres providing a big range of souvenir shops, beachwear shops, boutiques and fairly cheap electronic goods. The biggest include Yumbo and the area known as the Kasbah.

During the daytime activities include golf, horse riding, tennis, mountain-bike tours, amusement park, water park, roller-skating, windsurfing and impersonating Beau Geste among the dunes. The waves provide surfing potential at the west end of the beach. There are various water sports, such as windsurfing, diving (a couple of schools) and deep-sea fishing.

The nightlife here consists of dozens of unsophisticated bars and clubs (some of them popular with gay holidaymakers) heavily concentrated in the commercial centres. Most hotels have nightclubs and/or evening shows. There is a casino in San Agustin.

The area is predictably swamped with eateries along with English- and Irish-style pubs, fast-food joints, pizza, steakhouses, seafood, Italian and Chinese. Traditional Spanish is unbelievably hard to find. There is predominantly low-quality meals for the masses. The higher-quality fare can be found in the upmarket hotels and also along the promenade beside the lighthouse in neighbouring Maspalomas.