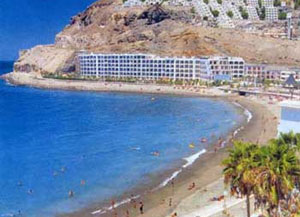 Palmitos Park : A colourful and entertaining look at nature is presented at Palmitos Park, situated four miles (6km) inland from Arguineguin on the south coast. The park is a subtropical oasis containing thousands of birds, fish, trees, plants and particularly orchids. The orchid house is the largest in the Canary Islands and the range is astonishing.

Arucas : The delightful town of Arucas sits beneath a dormant volcano on the northern coast of Gran Canaria, and is one of the most popular places for tourists to visit. The neat town is dominated by the majestic Church of San Juan Bautista, carved in stone by local workers. The town is also the centre of sugar and rum production on the island and visitors are welcome at the Fabrica y Museo del Ron to witness how sugar cane is turned into rum. It is possible to take a short walk out of the town to the Montana de Arucas viewpoint for a panoramic look at the northern coastline.

Corralillos : This Crocodile Park is home to more than 300 crocodiles and alligators from all over the world. Visitors shouldn\\'t miss the crocodiles\\' feeding time - at 12pm, 2pm and 4.15pm. The other half of the park is a zoo, which has sections on monkeys and chimpanzees, tigers, jaguars, camels and much more. There is a restaurant in the centre of the park where visitors can see a show where parrots perform various tricks, including doing a jigsaw puzzle and roller skating!

Museo Canario : The main museum in Las Palmas is well worth a visit, boasting the world\\'s largest collection of Cro-Magnon skulls and a few mummies. The museum also gives a comprehensive overview of the life and times of Gran Canaria\\'s original inhabitants, the fair-haired light-skinned Guanche people, who were conquered by the Spanish in the 15th century

Reptilandia : Those with a soft spot for reptiles should visit Reptilandia, situated a little off the beaten tack, near Agaete in the northwest of the island. It includes a collection of snakes, tortoises, turtles and lizards - the Komodo Dragon here is believed to be the largest lizard in the world.

Sioux City : One of the most popular days out in Gran Canaria, Sioux city was built originally as a stage set for an American western film in 1972, but developed into a Wild West theme park complete with cowboys, Indians, Mexicans and of course a sheriff. There are shows throughout the day featuring bank robberies, saloon fights, cattle stampedes, rodeos and gunfights at the OK Coral.

Waterparks : There are three water parks on Gran Canaria: Aqua Park in Puerto Rico and Ocean Park and the smaller Aqua Sur in Maspalomas. All offer enough attractions to keep children and adults amused all day, including dozens of slides and swimming pools.