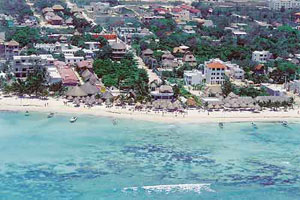 This area attracts backpackers to luxury seekers, although the former are increasingly being priced out of the market within the main town. Playacar is mainly for package tourists, with Americans well-represented. The main town offers primarily smaller, good-quality, more characterful options catering more for independent mainly European travellers.

The accommodation ranges from thatched huts on the beach to large top-notch, international-standard properties, with the latter developing at a rate to make up for lost time.

The blue waters of the main village bay lap a popular beach of fine, white sand with plenty of dive centres and thatched restaurants running along the back and thankfully only a random scattering of loungers and sunshades.

Most everyday needs are well-catered for by local convenience stores and minimarkets, though Playacar residents will find they have to visit the main village for just about everything. A mass of arts and crafts stalls and shops line the first couple of streets in from the beach, offering a wide range of leather goods, ceramics, wrought-metal items and textiles. Brand-name clothes shops are just beginning to spread down from Cancun.

During the daytime the main activities include sunbathing on the beach or by the pool. There are plenty of water sports including diving and snorkelling in particular. There are some small local Mayan ruins. There are fantastic visits to the island of Cozumel. And plenty of facilities for Golf.

The nightlife here consists of strolling the main street and browsing the souvenir options.There is music, and much of it live, it spills out of the many restaurants and bars. There is a handful of late music bars and discos. The large hotels organise their own entertainments programmes.

There is a huge choice of generally good-quality restaurants and bars, although fine dining is limited to the large hotels. The mexican cuisine intermingles with the ubiquitous pasta-pizza tourist fodder there is Asian food is available in several establishments and a McDonald's and a couple of other international brands.