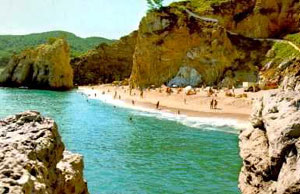 Playa De Pals attracts mainly golfers and self caterers. It is popular with German and Dutch families, and, to a lesser extent, British. There are lots of Spanish families in second homes. There is not enough happening for teenagers and young groups.

The accommodation here is predominantly medium-height apartment complexes of various sizes, privately owned and rented out through agencies. There is Two 4-star hotels, one 3-star aparthotel and some basic, privately let rooms. A few well-equipped campsites/caravanning sites with pools, tennis courts, minigolf etc.

Vast Playa de Pals is a wide, rather exposed 2-ml arc of coarse, golden sand. This area used to be backed by tall radio masts in one section but have fortunately now been removed, with a line of modern, uninspiring 4-storey apartment blocks in their place. To the N it merges with Playa de Grau, backed by sparse grassy dunes.

There is a small selection of souvenir shops on the main road down to the beach, selling the usual beach gear, postcards etc. There is no bank, but cashpoints and rental agencies change money. There is a large supermarket and some small boutiques and pottery shops in Pals.

During the daytime the activities include beach with water sports, golf, minigolf, tennis, and go-karting. Visit the nearby medieval village of Pals and the conservation-area and walk across marshes and dunes.

The nightlife here is limited to pub and bars/restaurants.

There is a handful of pizzerias and snack bars. One Dutch, 1 German and 1 Chinese restaurant. There is a self-service cafeteria. and 2 beachside restaurants. Paella is made using locally grown rice.

There is a large water park with several pools. A good selection of waterslides and waterchutes. Wave machine in the large pool. Restaurant, burger bar, shop and two bars. Free car parking, sunbed rental available.