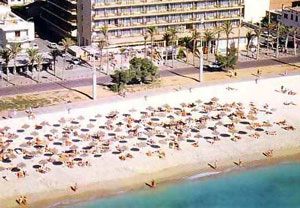 This area attracts young singles and couples are most likely to enjoy the rather limited appeal of the resort. The convenient position and flat pavements also suit older visitors who come here, particularly in the low season. Prospective visitors should brush up on their German before arriving.

There is a great choice of accommodation , including some quality establishments that seem a little out of place in the lagerlands. Hotels and apartments are evenly distributed along the full length of the development, with budget options concentrated in the older harbour area, and more modern choices found towards Ca'n Pastilla.

Palma has a temperate Mediterranean climate with an annual mean temperature of 17º C and an annual mean rainfall of 450 litres per sq m

There is uninterrupted miles of fine, light sand and a turquoise, suprisingly clean-looking sea. The beach is fairly wide with concentrations of thatched parasols and loungers to rent and a gently shelving water entry. The section at Arenal is a little scruffier. Further South the coast is rocky and there is no sand at all. From all hotels there is at least one road to cross to get to the beach.

During the daytime the main activiies include water sports, horse riding, minigolf, tennis and cycling. There is a large water park at edge of town. Some great horse-drawn carriage rides and pedal-powered vehicles.

The nightlife here offers innumerable watering holes, several discos and clubs, at least one where the topless waitresses are overdressed. Taste and subtlety are not common attributes here. Again, they are concentrated near the harbour and close to the sea front, although some hotels also have their own shows.

There is an enormous number of cafes and fast-food establishments. There are some seafood restaurants on the sea front. Generally plenty of choice spread over a wide area, although local specialities and fine dining are harder to find.