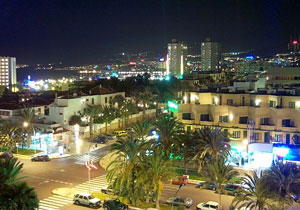 Beaches: There are 2 decent-sized options of beach with dark volcanic sand, plus an artificial beach constructed with sand shipped in from the Sahara.

Shopping: There are dozens of pricey supermarkets which serve the apartments. Thera are also many duty-free shops selling cameras, watches and jewellery at scarcely discounted prices, beneath Santiago 3 is a veritable Aladdin's cave. Also fashion, boutiques, Lladro etc. and bottomless pits of tourist tat. Tourist market in Torviscas. More than the occasional credit-card rip-offs reported so be on guard.

Daytime Activities: Daytime activities are amongst the most varied and abundant in Tenerife, including assorted water sports, water park, bungee jumping, 3 golf courses (one between the resort and Los Cristianos, 2 more about 6 mls away near the airport) and tennis.

Nightlife: The nightlife here is where things really come to life with an array of floor shows, cabaret (plenty of Elvis impersonators), karaoke, discos and nightclubs as well as a casino. This is definiyely a place for "night people".

There are a wide range of bars and restaurants where variety is the by-word, McEwans to San Miguel, paella to pie (steak and kidney). There are very few gourmet options but a good choice of fresh seafood, particularly in La Caleta. There are lots of Tapas bars serving local specialities which include papas arrugadas (literally "wrinkled potatoes" small spuds boiled in their jackets with salt), served with mojo picante (spicy green or red herb sauce).