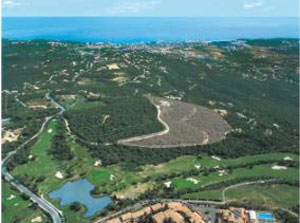 This area is a favourite with mainly middlemarket French, Dutch and Polish holidaymakers of all ages. Children are well catered for, with small amusement parks and a water park. A range of amenities offers something for most tastes.

There is a fair selection of mainly mid-range accommodation, with 2- and 3-star hotels in the centre of town and along the beach. There are Lots of privately owned apartments rented out through agencies. A few well-equipped campsites.

The main beach, Platja Gran, is a wide, rather exposed 1-ml stretch of coarse sand, sloping quite steeply in places, with a large rock known as Cavall Bernat at one end and a marina at the other. Sunbeds and parasols are available for hire. Ther are also water sports and a sailing club.

There is a good selection of shops, including expensive leather clothing, the usual souvenirs, beachwear, shoes, handbags and clothes all with a wide range of prices and styles. A smart pedestrianised shopping area on the inland side of the main road has upmarket clothing boutiques, expensive gift shops and a couple of small mid-market department stores. There are also banks and cashpoints.

During the daytime there is beach and water sports, the Aquadiver water park (with irregular free bus service), boat rentals, and the coastal walk to San Antonio de Calonge. There are facilities for golf, minigolf.

The nightlife here offers an array of discos, bars and nightclubs, there are medieval evenings and small amusement parks for children.

There is a large range of informal choices of eateries ranging from pizza and seafood to Mexican. There are a few stylish cafes, some self-service options and fast-food eatery. There are Ice-cream stands. All eating places atre fairly average prices.