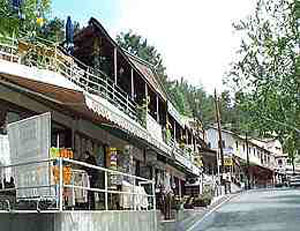 The area suits mainly middlemarket, young and old. Bird-watchers and walking groups. The accommodation here consists of seven hotels and one guesthouse, ranging from modern to traditional. Situated in and above the village.

A couple of small roads pass through. The climate tends to be a few degrees cooler than at the coastal regions, and some limited skiing is available in winter in nearby Troodos.

There are around fifteen souvenir shops, two banks and two supermarkets.

During the daytime the main activities include hiking and strolling and the use of hotel pools for a fee.

The nightlife here consists of three bars and two discos in the village.

There are about 15 restaurants and tavernas, some serving fresh locally farmed trout.