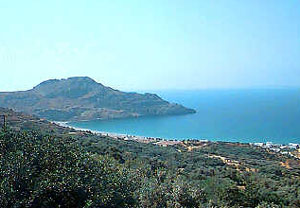 Plakias is suitable for couples, families, walkers and nature-lovers, the middle and budget-conscious market. It is not really suitable as a touring base or for those seeking energetic nightlife.

The accommodation here is limited to a small number of average hotels and apartments. Rooms in private houses, youth hostel, and camping site.

There is a good stretch of sand and pebble in front of the village, stretching S for around ¾ ml; some small, sandy bays within walking distance to the E.

There are food stores and supermarkets, the local village shops providing craft wares, tourist souvenirs and beach requisites, post office, money exchange, bakery, car hire and cash point.

During the daytime there are beach and water-based activities such as windsurfing, sailing, snorkelling, jet-skiing, canoeing, pedalloes and scuba diving. Other activities include cycling, walking, including nature trails, bird-watching, and exploring nearby archaeological sites.

The nightlife offers some bars (including music bars) and 2 discos but entertainment is mainly found at the hotels.

There is around 25 restaurants and tavernas, offering mainly traditional Greek cuisine as well as grills and fish.