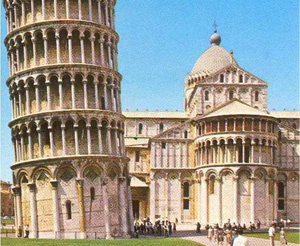 Pisa plays a main role from an artistic point of view: here the renawal in architecture, in sculpture and painting anticipate the florentine movement of the renaissance: the famous Leaning tower of Pisa, castles, churches, monasteries, all scattered on the top of hills along the rivers and in the ancient streets.

The natural and environmental heritage is particularly attractive: in the area you can visit the Natural Park of Migliarino- San Rosssore, Massaciuccoli, the Pisano Mountain, the Hills, the Coastline at Marina di Vecchiano, Marina di Pisa and Tirrenia The thermal baths are an attractive proposal too: Casciana Terme, Larderello , San Giuliano and Uliveto Terme . In its streets, squares, churches and palaces, Volterra maintains elements characteristic of different historical periods: from the Etruscans to the Romans from the Middle Age to the 18th century.

Pisa is without doubt one of the most interesting centres for shopping in Italy. Its variety of districts and streets provide shopper's with plenty of choice from quality Italian goods, jewellery, stylish clothes, typical italian food. The Borgo Stretto is one of Pisa's smartest shopping areas whilst the area's backstreets, where the locals in Pisa tend to shop offer a more original style of shopping.

Popular tourist attractions include:

The Leaning Tower of Pisa (Campanile) - This one of the most famous landmarks in Italy. Building of the tower began in 1173 and while building the third gallery, it already began to lean over. Building of the tower was then stopped for almost a century, untill it was finaly completed in 1275. You have to see this famous tower with your own eyes.

Church of Santa Maria della Spina - The Church of Santa Maria della Spina is situated on the south bank of the river Arno, it was originally even closer to the river but was moved to its current position in 1871 due to fears of flooding. The church is Pisa's finest example of Gothic architecture.

Camposanto Vecchio - This historical site dates back to 1278 and was established as a museum in the early 19th century. It exhibits 14th and 15th century detached frescos, Roman sarcophagi, and statues, sculptures, tombstones, and Medieval and Renaissance architectural elements.