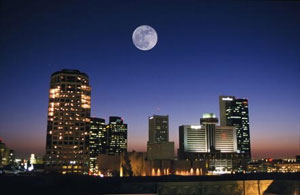 This area attracts the middle to upmarket, couples of all ages. There is not much on offer for children, better option for families is to stay in the suburbs and travel in for the day. Phoenix is popular with British and Americans, and well adapted for business travellers.

There are 50,000 guest rooms in the resort, ranging from 5-star luxury to more modest choices, spread around a wide area. Those summer visitors who can handle the 100°F (plus) temperatures can often enjoy rates reduced by as much as 70%.

Shopping here offers an impressive selection, there are plentiful malls include downtown's stunning state-of-the-art Arizona Center and Metrocenter, one of the state's largest shopping centres, with 250 establishments.

During the daytime popular activities inclde river floats, horseback and jeep desert tours, mountain hikes, hot-air balloon rides, gliding and sky-diving.

Golfing enthusiasts will head for the world-class courses, including those in neighbouring Paradise Valley and Scottsdale. There is also the Phoenix Zoo, Botanical gardens and the Heard Museum for Native American artefacts and fine art.

The nightlife here brings the opera, symphony, ballet and theatre performances making for a lively cultural scene downtown most of the year. Country music is popular and Phoenix is a great town for jazz. Stand-up comedy, murder mystery theatre with audience participation and karaoke are also favoured.

There are dozens of fine restaurants ranging from elegant grill rooms to casual cowboy-style outdoor barbecues. Also Southwestern, Caribbean, Mexican, European and Far Eastern specialities. There is a wide selection of establishments makes dining on a modest budget fairly easy. The usual selection of fast-food options can also be found.