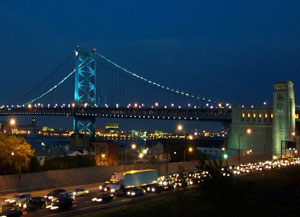 Philadelphia is a shopper's dream come true with an incredible variety of shopping options including one of the world's largest shopping malls gracing the city. Antiques, artwork and gift shops, boutiques, craft emporiums, upmarket clothing outlets and gourmet food markets abound. There are a handful of quality department stores. The historical shopping area of Philadelphia Bourse has a wide range of speciality shops.

During the daytime there are lots of fine old historical homes. The Liberty Bell. Independence Hall, where the Declaration of Independence and the US Constitution were signed. The late 19th-century City Hall. The impressive Masonic Temple. The Academy of Natural Sciences has an outstanding exhibit on dinosaurs. The Franklin Institute Science Museum.

There are various sports activities in Fairmount Park. The Home games of the Phillies (baseball) and Eagles (American football). Polo. For the culturally minded there is the The Morris Arboretum of the University of Pennsylvania. The Philadelphia Zoo. Lots of tours by foot, boat, bus, carriage or trolley.

The nightlife here offers the Philadelphia Orchestra (one of the country\\'s finest symphonies), opera nights, and the Pennsylvania Ballet. There are summer concerts on the Great Plaza. The Forrest Theater for pre-Broadway and hit shows. There is also the National touring companies perform at the Annenberg Center and the Merriman Theatre. Discos, comedy and music clubs clustered mainly in the popular Penn\\'s Landing area, near the downtown waterfront.

Philadelphia is a real restaurant town, with fashionable restaurants scattered throughout the city centre, the suburbs and out on the Main Line, where the wealthy still live on rolling estates. There are Ethnic areas, especially Chinatown and the Italian section in S Philly, provide delicious, inexpensive cuisine; you can also sample Cajun, Southwestern, Pennsylvanian and colonial-era fare; Japanese, Indian, Moroccan, Brazilian and vegetarian. Middle Eastern, Greek, French, Spanish and Mexican restaurants on the increasingly trendy South Street.