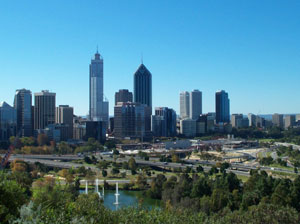 Perth is suitable more for couples than families. Aside from the zoo and beaches, there are few attractions for young children. The accommodation here is mostly 4- and 5-star skyscraper hotels with smattering of smaller concerns in the beach areas.

Located at the top of St Georges Terrace, Barracks Arch is all that remains of the huge Pensioner's Barracks which once comprised 120 rooms. The Arch is nothing more than a hint of the grandeur which once characterised this chequered building which was designed by the architect, Richard Roach Jewell.

Kings Park, otherwise known as Mount Eliza, offers a superb view of Perth and the graceful Swan River. It has been a source of pleasure to Perth residents since it was set aside as parkland in 1831 by the colony's first Surveyor General, John Septimus Roe. It was named Perth Park in 1872 and subsequently renamed Kings Park in 1901 to honour Edward VII's accession to the throne. Shortly afterwards the park was visited by the King's son, the Duke of Cornwall and York.

The Old Courthouse is the oldest building in central Perth. It was designed by Henry Reveley, the colony's first Civil Engineer, and completed in 1837. It is hidden away in a corner of Stirling Gardens beside the larger and more imposing Supreme Court Building.

Located on the corner of St Georges Terrace and Barrack Street, Stirling Gardens are a wonder to behold in springtime when the blooms and the exquisitely maintained lawns offer a dramatic contrast to the canyons of iron and concrete which surround it. The Gardens were first set aside in 1829 and opened in 1845. They are the state's first Botanical Gardens.

Northbridge features every kind of eating experience, from pricey fish restaurants to covered food halls where you pick and mix international cuisine from a variety of stalls and then eat at tables in the centre. Choose from Thai, Korean, Malaysian, Indonesian, Vietnamese, Cantonese, French, Italian or Lebanese. Most hotels have their own restaurants.

During the daytime visit the zoo, beach, Museum and Art Gallery of Western Australia, and Perth Mint. There are many heritage trails through Fremantle for the nature lover and hiker. The nightlife here offers the Perth Entertainment Centre which hosts ballet, comedy and lots of other functions, there are cinemas, ahuge casino, and a restored Edwardian theatre.