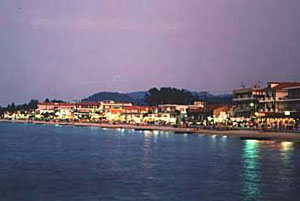 The beach is a long, narrow, gently shelving strip of pale sand and shingle, interrupted by short breakwaters. The sea is calm and clean, ideal for children and swimmers lacking confidence. There are sunbeds and parasols are available for hire along most of the length, and there is 1 stall offering pedalloes and canoes for rent.

There are the usual souvenir outlets, and "bucket and spade" shops occupy the beachfront shopping area, with a few clothing stores dotted about.

During the daytime there is the beach- and water-based activities including snorkelling. There is also plenty of oppurtunity for rambling in the surrounding countryside.

The nightlife here is made up of late-night tavernas and music bars (including karaoke), with a couple of "pubs" thrown in for good measure. There are also evening arts and crafts markets.

There is a reasonable choice of restaurants , but few offering traditional Greek fare; most eateries have a sprinkling of Greek dishes hidden among the burgers and chips. There are a couple of steak restaurants, and fish is a local speciality.