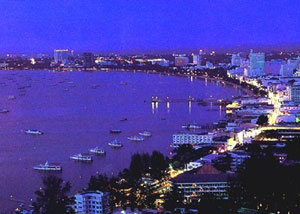 Beaches: The main resort beach is a long, reasonably pleasant affair of coarse sand backed by a tree-lined promenade, but it does not fit the image of a cliched tropical beach.

Shopping: There are several large, modern shopping centres and department stores. There are numerous small, open-sided local shops offer local souvenirs and fake designer goods and also some handicraft stalls. abound.

Daytime Activities: During the daytime there is a surprisingly large and varied range of activities, including most water sports, go-karting, paint-ball games, game fishing, horse riding, golf, tennis, fitness centres, bowling, an elephant village, national parks and a zoo.

Nightlife: The nightlife here has everything imaginable, and much that isn't. Even the more mundane options for an evening out often come heavily laced with seedier elements. A surprising number of bars and restaurants have private air-conditioned rooms for massage purposes. Those seeking more traditional live music and cultural shows are best sticking to hotel-based entertainments.