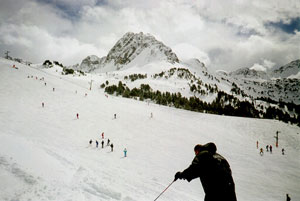 Skiing and boarding in Pas caters for everyone from the absolute beginner to advanced competition experts, with nursery slopes just above the resort, about 23 red runs and 13 black runs. Alternative snow fun on offer includes snow-mobiling and tobogganing.

There is plenty to do when you need time out from the slopes, with a gym, indoor and outdoor pool, movies, ten-pin bowling, snow-shoeing and walking just some of the options. Nearby there is a spa offering thermal baths, or take excursions to try out the facilities in nearby resorts.

With more than 60 restaurants cooking up a storm in and around the resort, no-one working up an appetite on the slopes need go hungry. Local cuisine is largely Spanish (with paella as a favourite) but there are plenty of French influences on the local menus.

Rated as the most 'upscale' gourmet dining establishment in 'Pas' is the Restaurant Marisqueria Campistrano; for views of the competition action and competitive boarding courses dine on high (2,200m up) at the Costa Rodona, which has a self-service cafeteria on the ground floor. There are many other restaurants on the slopes offering panoramic views and delicious meals, with dozens more cafes and restaurants in town offering everything from quick snacks to gourmet delights.

'Pas' stands out as one of the clubbing and bar havens of Europe, keeping the young crowd hopping and bopping through the night with throbbing music and cheap drinks. Local party temples include KSB, Billboard, Crack, Kyu and Underground, to name just a few.

Local bars extend 'happy hour' to extremes and some have even been known to reward good customers with free drinks. Another thrill is to enjoy floodlit nighttime skiing on the Font Negre piste.

There is a very high concentration of demanding, affluent French visitors has helped create a broad spectrum of quality tax-free goods, undoubtedly the best choice outside the capital, although marginally more expensive.