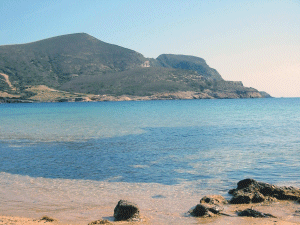 On the north coast, the fishing village of Naoussa has grown into a full-scale resort, and is almost as crowded as Parikia in July and August; the most popular Paros beaches are within easy commuting distance of Naoussa's hotels.

The west coast of the island has long stretches of fine sand, plus wind conditions that have made this the site of the World Cup windsurfing championship every year since 1993.

When you head inland, you'll find narrow, winding streets and lots of characteristic white sugar-cube Cycladic architecture. Charming Lefkes, set within the island's inland hills, has preserved many of its medieval buildings amidst a maze of steep narrow streets.

If possible, take a day or two to explore the island and visit its attractions. Paros is large enough that renting a car makes sense. Then, you can make an around-the-island tour that includes a morning visit to the Valley of the Butterflies (Petaloudes), a visit to Lefkes, a stop for a good lunch in Naoussa, a swim at your beach of choice, and a night back in Parikia, where you can shop and stroll the evening away.