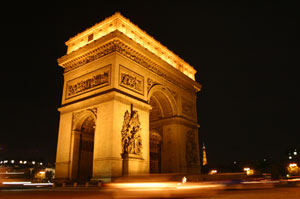 Eiffel Tower - This is one of the world's most recognizable monuments (and the best-known monument in all of Europe), and it is breathtaking to behold. Be sure to take the lift to the top for a spectacular view of the city. This attraction alone drew 6.2 million visitors in 2002, according to Paris Office of Tourism statistics.

Louvre Museum - Arguably the world's most famous art museum, the Louvre's most popular piece is Leonardo da Vinci's "Mona Lisa." It was established in 1793, and is one of the oldest museums in Europe. Its collections spans from the birth of great civilizations up to the 19th century. A whopping 5.7 million tourists visited the museum in 2002.

Centre Pompidou - The funky and hip Centre Pompidou features a wonderful collection of modern art within its creatively designed building. It also features a cinema, concerts and children's activities. The Centre attracts 5.5 million visitors annually.

Sciences at de l'Industrie - This fun, hands-on science museum attracts 2.5 million visitors each year, with its cool exhibits on anatomy, biology, you name it.

Musee d'Orsay - This museum may not be the massive size of Louvre, but its Impressionist collection is among the best in the world. The museum is housed in a former rail station, and has the atmosphere and personality to match. The Musee d'Orsay attracts 2.1 million visitors annually.

Arc de Triomphe - Climb to the top for one of the best views of Paris. No, it doesn't go as high as the Eiffel Tower. But since the city is relatively flat, the vantage point at this height is actually better. The arch brings in 1.4 million visitors each year.

Sacré Coeur - The 'sacred heart of jesus' Basilica is located at the summit of the <i>butte Montmartre</i>, the highest point in the city.