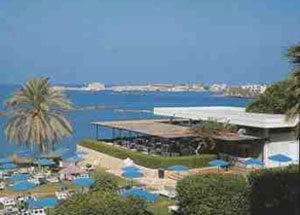 Paphos has wealth of historical attractions along with a variety of accommodation types suiting a full range of holiday makers. One of the most popular attractions to Paphos is the magnificent beach at Coral Bay.

This side of the island is more popular and suited to couples and families as opposed to the other end (Ayia Napa) that caters more for singles and busy nightlife.

Popular attractions in Paphos include:

The impressive second century Odeon , which was rediscovered in 1973, the 12th-century Saranta Kolones Castle , which was built by the Lusignans but virtually destroyed by an earthquake in 1222, the fifth-century Panagia Limeniotissa Basilica and the 13th-century Panagia Chrysopolitissa Church , where one can see St Paul's Pillar, where according to legend St Paul was flogged 29 times, are all also worth a visit for their architectural and historical importance.

TOMBS OF THE KINGS - Spread over a vast area, these impressive underground tombs date back to the 4th century BC and are a maze of underground which actually housed the remains of high officials rather than kings. They are carved out of solid rock with some being decorated with Doric pillars. The magnificence of the tombs gave the locality its name.

THE MOSAICS OF PAFOS - House of Dionysos, House of Theseus and House of Aion. The mosaic floors of these noblemen's villas dating from the 3rd to the 5th century AD are considered among the finest in the Eastern Mediterranean. They mainly depict scenes from Greek mythology.

SANCTUARY OF APHRODITE - Kouklia village,14 km east of Pafos, off the Limassol road (Lemesos locally) Palaipafos (Old Pafos) was one of the most celebrated pilgrimage centres of the ancient Greek world, and once city-kingdom of Cyprus. Here stood the famous Sanctuary of Aphrodite, the most ancient remains of which date back to the 12th century BC.