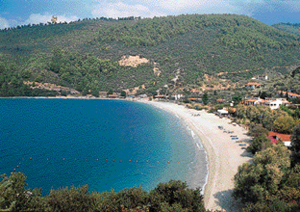 Beaches: The beach on the W corner of the village is a dark red, coarse-sand beach with clear turquoise water, although it now and again suffers from seaweed; it is sheltered by a jetty and the sea is fairly shallow. There are sunbeds and parasols for hire, some water sports and plenty of bars and tavernas.

Shopping: This area is not a shopper's paradise. There is just a few small supermarkets stocking basic items. there is a bakery, post office, souvenir shops and jewellers all selling pretty much the same thing. Best buys are gold and local hand-made ceramics and lace. There are some places sell so-called designer fragrances which may or may not be the real thing.

Daytime Activities: During the daytime there are beach activities, water sports including windsurfing, canoeing, pedalloes and diving and there is plenty of oppurtunity for walking.

Nightlife: The nightlife here includes romantic moonlight walks, bars and tavernas.

Eating Out: There is the usual range of bars and tavernas, either in the quaint, narrow backstreets or by the harbour. The locals believe that the village's reputation for good food draws in the well-heeled residents of nearby Rethymnon, so prices vary accordingly from very reasonable to more than you may have had in mind.