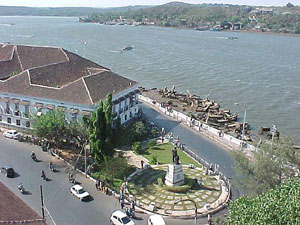 The town beach at Miramar only 1 mile SW is quite attractive but oil-polluted. The beach is better at Dona Paula resort which is 6 miles away.

The market here is inferior to Mapusa or Margao, bu there is a large range of conventional shops but it is generally less touristy.

The main entertainment is sightseeing, there are many churches and old buildings surviving from the time of Portuguese administration. It is a quiet, picturesque, colonial atmosphere in the quarters of St Thome and Fontainhas. There are pleasant riverfront walks, a Cinema and a theatre.

There are many traditional restaurants in the city and its immediate environs.