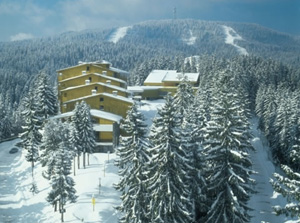 Although Pamporovo offers excellent skiing for all levels of experience, its nursery slopes are particularly good and beginners soon flourish. There are more than 100 well-qualified instructors available fluent in a variety of languages. All the main runs start from the peak of the Snejanka at the TV tower. The most difficult ski piste is 'The Wall', a black run which offers an exciting challenge. Great off-piste skiing and snowboarding is also on offer. Snow conditions are excellent throughout the season.

The main shopping centre here, contains mostly boutiques, souvenir shops and sports gear outlets, is attached to the Hotel Perelik.

Pamporovo is well supplied with restaurants serving a wide variety of cuisine, but most visitors favour the local folk taverns like the Chevermeto, where whole sheep are roasted over open fires and dancers in traditional costume provide colourful entertainment. For an eclectic, filling selection the favourite eatery is The White Hart, which offers home-made pub grub, mouth-watering steaks, a selection of pizza and pasta and even caters well for vegetarians. More upmarket dining, along with Bulgarian wines, is offered in style at The White House.

Après ski in Pamporovo is lively with plenty of options to choose from, whether you prefer sipping wine in a cosy piano bar, or partying the night away in a club. Most popular choices are BJ's in the lobby of the hotel Perelik, Daks Bar in the hotel Snejanka, or Night Flight, the resort's largest disco, in the Hotel Rojen.

During the Ski season in Pamprovo comes hand in hand with a full programme of events and activities, ranging from bum-boarding to a raucous ski-instructor's show. Bowling is offered at hotels, ice-skating, skidoos and tobogganing are popular pastimes, and excursions to nearby places of interest and Sofia are on offer.