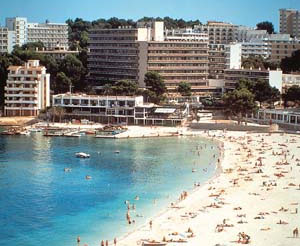 There is a small cove at Son Caliu and 3 separate beaches in Palma Nova itself. The first, near the port, is a thin ribbon of sand served by several water-sports clubs. The second and largest has terrace bars with good sea views. Son Matias is the third a large sandy beach.

There are many Supermarkets and various stores which meet all general shopping needs. Souvenir shops are distributed throughout the resort. A greater choice is available within walking distance at Magalluf. There is a monday market at Calvi for the bargain hunters.

Entertainment here during the daytime consists of mainly water sports.

The nightlife here consists of a casino/restaurant in Magalluf and almost all of the hotels have some form of organised entertainment programme, from bopping to bingo in Palma Nova itself. There are also numerous music bars and several discos. Most clubs don't get going until around 11pm, but there are lots of good bars nearby which offer good music and large jugs of sangria. Popular ones include BCM Cafe, Panama Jacks, Bar 29, Lennon's and Eva's.

There is a big choice of restaurants, with many snack and burger bars, plus restaurants serving local and foreign cuisine. Choices such as Indian, Chinese, Mexican, Italian, and even some Spanish restaurants compete with fast food outlets and lots of pubs and cafés offering full English breakfasts and Premiership football. Better restaurants can be found in Palma and Andraitx.