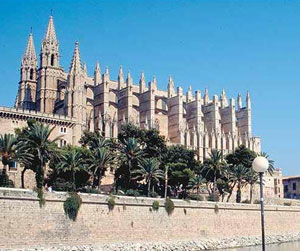 Popular attractions and activities include:

Banys Arabs : The only remaining complete Moorish-built building in Palma is the bathhouse in the medieval quarter. It contains an elegant horseshoe-arched and domed chamber, supported by 12 columns, and is fronted by a garden with picnic tables.

Beaches near Palma : There are several good, though usually crowded, beaches accessible by bus from Palma. El Arenal, seven miles (11km) to the southeast of the city, attracts many German visitors as is reflected along its waterfront in the signs on restaurants, bars and hotels. The long beach boasts white sands and turquoise water. Palma Nova and Illetes, between six and ten miles (10 and 16km) to the southwest, are smaller but equally popular beaches.

Castell del Bellver : The round hilltop castle built in 1309 was the summer residence of the kings of Mallorca during the short period in which the island had a Royal family. The fortified castle with its double moat also served as a prison. Today it contains Palma's Municipal Museum, displaying mainly archaeological artefacts and old coins.

Catedral O la Sea : Palma's magnificent Catalonian Gothic cathedral is a landmark of the city, standing in the old town overlooking the ocean. The cathedral is dedicated to Palma's patron saint, San Sebastian, and contains some saintly relics and pieces of the True Cross in its treasury. Construction started on the edifice in 1300. The vast central vault is 144ft (43m) high, its columns towering to a height of 65ft (20m).

Museu d'Art Espanyol Contemporani : Palma's most renowned art gallery contains works collected by the Juan March Foundation, housed in a restored mansion on the Carrer Sant Miquel. The collection focuses on modern works including Picasso's Head of a Woman and paintings by Miro, Dali, Juan Gris and Antoni Tapies.

Palau del'Almudaina : Opposite the cathedral in Palma stands an austere fortress palace that was erected by the Moors and later became the residence of the kings of Mallorca. Inside, most rooms and corridors are bare, but there are some beautiful Flemish Gobelin tapestries on display as well as a few antiques, art works and suits of armour.