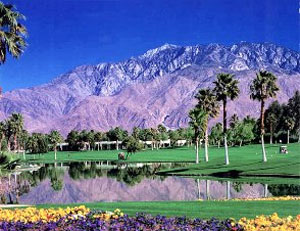 The main shopping in downtown Palm Springs is centred on the Mercado Plaza, this is mostly middle-of-the-range holiday wear and tasteful gift shops. Uptown has the galleries and antiques. There is an arts and crafts market in downtown Palm Springs on Thurs evenings. More distant are the exclusive El Paseo Ave (13 mls) and the designer-led Desert Hill premium outlets in Cabazon (25 mls).

During the daytime popular activities include golf, tennis, cycling, and hiking. There is also health spas, horse riding, mule rides, hot-air ballooning, sailplanes and trout fishing.

Also visit the Agua Caliente Cultural Museum. Living Desert Wildlife and Botanical Park. Moorten's Botanical Gardens. Palm Springs Air Museum . Village Green Heritage Museum. Knotts' Soak City Water Park . Adventure centre with rock-climbing walls. Palm Springs Desert Museum. There are also film festivals and golf tournaments a-plenty.

The nightlife here has several theatres, including the McCallum Theatre (aka The Bob Hope Cultural Center), which often features Broadway road shows and classical-music concerts; the Annenberg Theatre; and the Fabulous Palm Springs Follies (all chorus girls over 50). Cinema, Imax Theatre. Various nightclubs and coffee houses. Casino.

Restaurants here vary from formal to casual, poolside or surrounded by lavish decor. There is a wide range of ethnic cuisines, from Indian, French, Mexican and Italian to seafood and California-style bistros. Most major fast-food chains are represented (but not obtrusive), as are juice bars and stylish coffee shops. The prices vary from moderate to very expensive. All public establishments are nonsmoking.