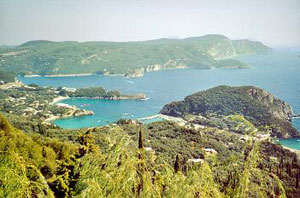 There is a main shingle beach with crystal-clear, blue-green water which is usually icy-cold owing to underground freshwater streams, the water is deep and unsuitable for young children. There are many other small, shingly coves, some reached only by boat.

There are some minimarkets and tourist shops, together with travel agents offering exchange facilities and local car-hire offices.

During the daytime, activities are mainly beach and water sports, including scuba diving and glass-bottomed boat trips. For the nature and culture lovers there are walks offering fine views, visits to the monastery, founded in 1228 and now housing an interesting Byzantine collection.

The nightlife here is a selection of stylish bars and a couple of basic discos.

The restaurants here are mainly Tavernas and restaurants with the emphasis on seafood, especially locally caught lobsters. There is the odd budget-style restaurant, but no fast-food eateries.