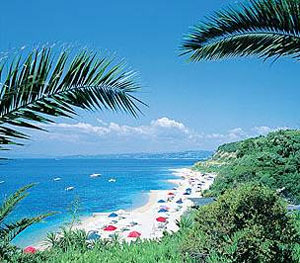 Relatively clean town beaches of pale sand and gravel, located between breakwaters on 2 sides of the town. There are small sandy coves and larger beaches are strung out to the NW, along the 5-ml strip towards Tripiti. All are gently shelving and safe for swimming. Sunbeds and parasols are available towards the Ouranopolis end of the Tripiti strip.

All the basic necessities available for self caterers, tourist shops selling the usual range, including silverware, ceramics and fake icons.

During the daytime the popular activities are beach- and water-based, including windsurfing and water-skiing. There are also rambles in the surrounding countryside. This is a generally a "fair weather" town, and can be rather miserable in the rain.

The nightlife here consists a few bars along the sea front, otherwise, hotel based with dancing and "Greek nights".

There is an adequate choice of restaurants facing the harbour and in the street behind, and there is nothing to get excited about. Varied local fare with the usual fast-food and pizza possibilities.