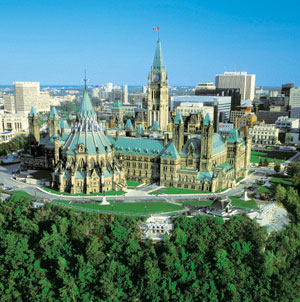 The shopping here is as varied as any major city. The huge Rideau Centre boasts over 200 retailers in fashion, food and entertainment, including glamorous department stores. In contrast, Byward Market is a renowned concentration of low-rise shops, street vendors and local artisans. Numerous other malls are dotted around the city centre.

During the daytime sightseeing opportunities are plentiful. There is an enormous variety of historic monuments, fine museums, art galleries, theatres and public buildings, most notable being the impressive 19th-century buildings and clock tower atop Parliament Hill, which incorporates Canada's own House of Commons and Senate offices; daily Changing of the Guard. There are numerous art and music festivals and exhibitions; row-boat races and boat tours on Ottawa River and its canals. The country's biggest event is the Canada Day celebrations, held here on July 1st.

The nightlife here is more family orientated than many cities, there is the usual array of nightclubs, bars and clubs as well as theatres.

Eating out here is as varied as you like with places to suit all pockets. There is a strong French/Quebecois influence in many of the smarter restaurants and hotel bistros contrasts with traditional Canadian/American-style steakhouses, Chinese, Mexican, Thai and the usual gamut of international fast-food chains.