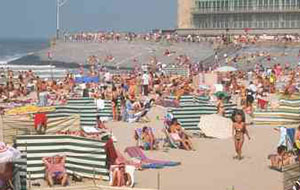 There is a broad strip of sand which is subject to the weather's whims.

There are open markets and small shops in the fishermen's quarter vaunt Flemish foodstuffs (particularly seafood) and lace.

During the daytime activities include guided walks, horse-drawn carriage rides, an aquarium, many museums of modern art, fine art and folklore. There is the unusual house of local painter James Ensor, and the impressive neo-Gothic church of St Peter and Paul.

Sporting activities include angling, hiring bicycles, golf, karting, indoor climbing, minigolf, sailing and tennis. There are also educational nature walks in vast Maria Hendrikapark.

The nightlife here is lively, there is a casino, musical comedy and theatre, jazz pubs and a disco.

There is a long line of restaurants on the seafront promenade and at the yacht port serving specialities such as sole, lobster, oysters, prawns, mussels with French fries, bouillabaisse, "Waterzooi" and "Paling in 't groen" .

You can get typical snacks from whelk stalls. Ther is a range of fast-food eateries. Try out the local gin and the waffles.