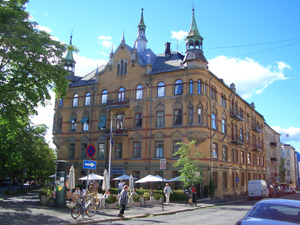 Oslo offers a wide variety of restaurants and cafes serving excellent food with something to suit everyone. Seafood is a speciality in Oslo and you will find many seafood restaurants along Aker Brygge where you can enjoy your meal outside with good waterfront views. However there are also many Italian, Chinese, Indian and French cuisine restaurants.

Oslo is the perfect place to visit if you are looking for amazing views, especially the fjords, parks and mountains.

Popular attractions include:

Nasjonalgalleriet (National Gallery) - Visit the National Gallery to see an impressive art collection including Picasso, Cezanne and of course, Edvard Munch. His powerful paintings are held in several rooms. You can also view many other Norwegian artists' work.

Bygdøy - Bygdoy is just a short journey from central Oslo by ferry. All the attractions in Bygdøy are within 10-15 minutes' walking distance of one another, including Norway's largest open-air folk museum; maritime museums and a few good beaches.

Munchmuseet (Munch Museum) - The Munch Museum is situated in the east of Oslo's city centre and is close to the parklands of Tøyenbadet and Tøyenhagen, where botanical gardens can be found. Various versions of Munch's most famous paintings, The Scream and The Sick Child, are displayed and films about Edvard Munch's life are shown daily.

Holmenkollen - Holmenkollen Skimuseum is the most visited tourist attraction in Norway! It is located on the west of the city and is just 10-15 minutes from Oslo by car.

ASKERSHUS FORTRESS - A medieval fortress and castle is a must see attraction with the unforgettable dungeons; banquet halls, staterooms and the chapel, still used for royal events, which holds the crypts of King Håkon VII and Olav V. The site is surrounded by park grounds, offering lovely views of the city where concerts and dances are held during summer.

Spoil yourself with some of the best cuisine in Scandinavia, immerse yourself in Oslo's history and culture, stroll its leafy streets and have a bite to eat in the outdoors. Take the time out to appreciate the many charms of Oslo, a city whose charisma captivates every time.