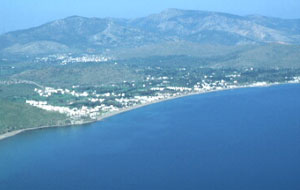 There is a long stretch of earth-coloured sand containing many pebbles, which workers manfully try to sieve out in vain. There is clean sea water which is suitable for swimming.

The shopping here is all on the seafront; some minimarkets selling basic provisions, beachwear, sun tan cream etc.

Daytime offers mainly beach-based activities.

The nightlife offers a mixture of bars and restaurants.

The restaurants apart from those in the hotels, are virtually all on the beach and are generally quite basic.