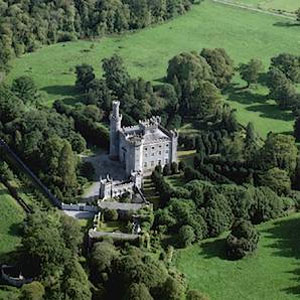 West Offaly Railway Bog Tour - Located at Blackwater Works, Shannonbridge, this 5.5 miles is Ireland's only passenger train that journeys through a bog. Experience the past, present and future uses of Blackwater Bog - you might even have the chance to cut turf by hand.
Where else can you travel 10,000 years in just 9km. As part of your tour, try a cup of tea and a slice of porter cake out on the bog - must be pre-booked.

Birr Castle - Birr, county Offaly, is situated on the banks of the River Camcor. The place name "Birr" originated in an Irish term probably used to describe this riverside position, though for many years the town was known as "Parsonstown", as Birr Castle was and still is, home to the Parsons family. Back in 1620 Sir Laurence Parsons was granted 1,277 acres of land and took possession of Birr town. The castle has grown since then and become famous for many things, but mostly for the telescope, which was the largest in the world for over 70 years and was constructed in the 1840s by the Third Earl of Rosse. It was recently restored and is in fine working order.

Charleville Castle - Located at Tullamore, Charleville is Irelands finest gothic revival castle. It is considered to be a masterpiece of Francis Johnstons, who designed the GPO in Dublin. The castle was built
between 1798 and 1810. The massive dining room was designed by Sir William Morris.

Tullamore Dew Heritage Centre - Located at Bury Quay, Tullamore, the Tullamore Dew Heritage Centre is housed in the original 1897 bonded warehouse. The exhibition relates the story of the town's development, focusing on the Grand Canal, Tullamore Dew Whiskey (named after Daniel Edmond Williams) and Irish Mist Liqueur. At the end of the tour, enjoy a complimentary tasting of one of these drinks.