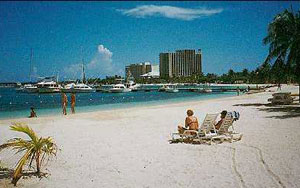 There are good sandy beaches along an 18-ml stretch of coast. Very good for swimming with all water sports available at the larger properties. .

There is duty-free shopping in various plazas including one modelled on the Taj Mahal in India. The large hotels stock everything from Swiss watches to designer clothes. There are 4 craft markets and roadside stalls supply a variety of souvenirs, handicrafts, clothing and accessories. There are also the usual pharmacies, supermarkets and boutiques.

During the daytime there is a range of water sports including parasailing, jet-skiing, windsurfing, water-skiing and sailing. Other activities include horse riding, tennis and squash at hotels, as well as glass-bottomed boat rides and fishing. The central beach area is not so good for snorkelling and scuba diving but it is better farther along the coast in both directions. There are also several diving schools.

The nightlife here is mainly centred at hotels, with range of bars, discos, floor shows and live music. Jazz festival in June.

There are many fine restaurants offering Italian, Jamaican, Chinese, Indian and French cuisine. Most of the hotels come with gourmet restaurants which take outside bookings. Seafood is a speciality in some restaurants. More adventurous guests can visit small Jamaican eating places and sample spicy local dishes and fruit. There are fast-food chains which offer burgers and pizzas.