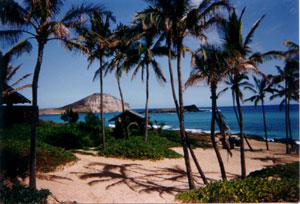 Oahu has arguably the finest beaches of the Hawaiian Islands and plenty to choose from. Like all Hawaiian beaches, Oahu's are open to the public. 1-ml-long Waikiki Beach is crowded year-round, receiving 25,000 visitors every day. Some of the E coast's best beaches are at Kailua and Lanikai: the surf is gentle, the snorkelling is good, and kayaks and surfboards are usually available for rent at the weekends.

Thousands of shops sell everything from postcards and coconuts to European designer products; Honolulu's several shopping complexes include the Ala Moana Center and Ward Center . The island's biggest concentration of shops can be found in Waikiki's Kalakaua Avenue, and includes the Royal Hawaiian Shopping Center, Waikiki Shopping Plaza and the International Market Place. Other shopping areas are located throughout the Honolulu vicinity.

During the daytime popular activities include water sports including surfing, snorkelling, scuba diving and sailing. Other activities include hang-gliding, hiking, cycling, tennis and golf. For the tourist interested in culture there are museums and memorials of Pearl Harbor, including USS Arizona Memorial and USS Bowfin Submarine Museum and Park and several botanical gardens.

There is a Sealife Park, with a wide range of marine shows and exhibits, also Honolulu Zoo (in Waikiki); Sacred Falls State Park, with an 80-ft waterfall.

The nightlife here offers good variety, mostly concentrated in Waikiki and including comedians, Las Vegas-style floorshows, live music , bars and discos; many Waikiki hotels offer in-house entertainment. There is Broadway and off-Broadway shows by Hawaii Performing Arts Company, the Honolulu Symphony Orchestra, and the Hawaii Opera Theater

There are many options for eating out, ranging from hot-dog stands to a few international restaurants offering Chinese, Japanese, Vietnamese, Thai, Laotian, French, German, Italian and Swiss cuisine. The majority of restaurants feature steak/seafood/American food. The regional Hawaiian fare utilises fresh local fish, vegetables and fruits in imaginative and delicious combinations. Luau (Hawaiian feast) evenings feature traditional foods, dancing and music, but tend to vary in quality and authenticity.